Assess Your Door Safety &
Achieve Total Pinch-Point Prevention
Did you know? A single door slam creates 40 tons of pressure. That can be a recipe for disaster for educational facilities, healthcare centers and more. Learn about what to look for in high-risk areas and how to prevent pinch-point injuries caused by unsafe doors at your business or in your home.
 
View Products
High-Risk Areas to Consider
It's no secret that doors are essential to our businesses' security, environmental control, privacy and more. But many don't consider how dangerous their doors can really be, so assessing your space's high-risk areas is a proactive step toward achieving total pinch-point prevention at your business.
Perform your own risk assessment by evaluating common areas in your space that may be hazardous. These can include:
Bathroom doors

Dutch doors

Main entrances and exits

Playground and classroom doors (especially in areas where there are children 4 and under, as well as special-needs students)
 
To identify high risk doors in your facility download our Risk Assessment Sheet to see what options are available to meet your space's door safety needs.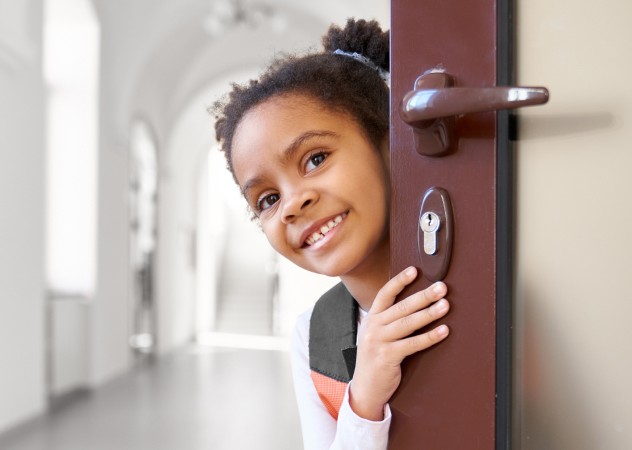 What to Look for to Prevent Door-Related Injuries 
Door Hinges
Are they firmly installed? Is your door wobbly? Does your door open and close smoothly or with maximum effort? If it doesn't open smoothly, this door may lead to an injury.
Door Closers
Ensure that any door closers are correctly adjusted so they pause for long enough for anything in the latch (doorknob) area to be removed quickly prior to that final slam.
Panic Bars
If your door is fitted with a panic bar and its ends are so close to the door jambs that they create pinch hazards when the door is closed, consider shortening/replacing the panic bar.
Door Handles
If the door handle may be easily opened by a young child, allowing them to leave the room unnoticed by their caregiver, consider replacing the handle or installing an alarm, such as a travel alarm, to sound if the door is opened.
Hinge Guards
When fitting door hinge guards, ensure that they allow the door to open to its fullest extent. Remember, some doors open to 180° and any hinge guard that doesn't allow this will pull away from the door, leaving the finger-pinch hazard still exposed. Try to avoid hinge guards that use glue as the method of attachment. If the surfaces to which these are attached are not properly prepared, the hinge guards can easily become detached. Also many glues cannot stand up to the wide extremes of temperature that may be encountered in some geographic areas. Both the opening hinge side and the hinge pin side (where the hinges protrude), must be protected. Injuries at the hinge pin side do not just include amputations and crushings, but also head lacerations if the child should fall hitting his or her head on the protruding hinges.
Glass Doors
If there are glass doors in your space, ensure that the glass is shatterproof or of the wired glass variety. You'll also want to ensure there is some warning visible on the glass to prevent somebody from walking straight into it, unaware that there is plain glass in front of them. Use vinyl window decoration (or children's artwork for schools).
Not sure which Fingersafe products you need for your doors?
Browse our products today to see which options might be right for your needs.
Already Using Fingersafe?
If your facility is already fitted with Fingersafe pinch-point prevention hinge guards, you should inspect them periodically to check for:
Wear and tear of accordion pieces:

Are your accordion pieces firmly snapped into the fixing strips? If there is heavy traffic through any particular door, screw three or four screws through the fixing strip and accordion where they meet.

Cleaning: Ensure your hinge guards are not damaged or dirty. If they are, you can use any household cleaner. Please contact us at 888-346-4723 or email orders@fingersafe.com

for replacement pricing.
See What Our Happy Customers Have to Say
"We ordered the Fingersafe products after having a small child lose the tip of one of his fingers. We now have your products on every classroom door in our child care center. We love this product! The design is flawless and the safety this product provides is wonderful! The protectors were easy to install and match our doors beautifully… Thank you for creating and providing such a great product to keep our children's fingers safe!"
"I toured a local school and saw the product in action and it really works. They said I was the first one to ever notice it! I think it's a good marketing feature because it illustrates the dedication that a facility has to the safety of their children. I also toured several other facilities and no one had a finger injury protection product installed. What a shame! This product has to be made one of the state requirements for daycare facilities. That is a win-win scenario for everyone!"
"We placed two of your hinge guards on two of our 325 foot passenger ferries about a year ago to see if they would hold up to the high traffic of our vessels. These doors open seven days a week, for 16 hours a day at a rate of 50 to 150 times an hour and take a beating. I see no stress or wear on the material of your Fingersafe hinge guards."
"The finger guards we purchased in 2007 have held up well and definitely saved some fingers! That is certainly an accident you do not want to happen."